If you are an avid RV adventurer, then one of the items you don't want to leave behind is the RV water filter. Indeed, the quality of water that you will use can make or break a campground experience.
The essence of tagging along a water filter is because there is no guarantee for a consistent water tap hookup. But even if there were, then the taste of the water from a remote, off-the-road location wouldn't be as natural and refreshing as filtered water.
Many campers often contemplate carrying clean water to campsites. There is no problem with that. However, can you bring sufficient water for your drinking, cleaning, cooking, and showering demands? That sounds tricky, hence the need for a water filter.
But that said and done, which RV water filter lives up to the expectation of every enthusiastic camper? Stay here for detailed reviews of the best RV water filter models. In this guide, we'll also provide you with all the information about water filters.
5 Best RV Water Filter Reviews
Water is life. Just like your primary home, your second home needs a steady supply of clean potable water. In this section, we will review the best 5 RV water filters and hopefully help you find one that is excellent for your needs.
1. Camco TastePURE Water Filter with Flexible Hose Protector
Naturally, I'll first talk about my personal best water filter for RV. The Camco brand has found its way into the hearts of many RVers, and I must insist that this specific model has some alluring perks to offer. What I like most about it is its large capacity that allows me to filter water for an entire camping season.
The product has a 20-micron rating, and this assures me that my water is free of sediments. This, coupled with its carbon filter, helps to reduce the growth of bacteria. One of the first things you will notice is that the unit has a wide-body design. This ensures it effectively supports a high flow capacity and rate.
I trust the built-in granulated activated carbon because it effectively treats the water and makes it potable, irrespective of its source.
This is a feature that can save you from being forced to return home from your escapades earlier than your predetermined date. The activated carbon does a fantastic job at reducing sediments, chlorine, and both bad tastes and odors from the water.
Having a filtration system that can prevent the buildup of microbes and remove smells and sediments from the water makes this unit ideal for use in any campsite. Whether you intend to go a few miles away from home or explore areas that are miles away from civilization, your system will be like your best buddy.
A bragging point that cannot go without mentioning is the flexible hose protector. It helps to reduce kinking and also minimizes the strain on the filters connections.
PROS:
Large capacity filter that accommodates a high flow rate
The system reduces the buildup of microbes
Powerful filtration (20 Micron rating)
Granular Activated Carbon to remove bad odor and taste from water
Flexible hose included
CONS:
One needs to be tactful during installation to prevent leaks
---
2. AQUACREST RV Inline Water Filter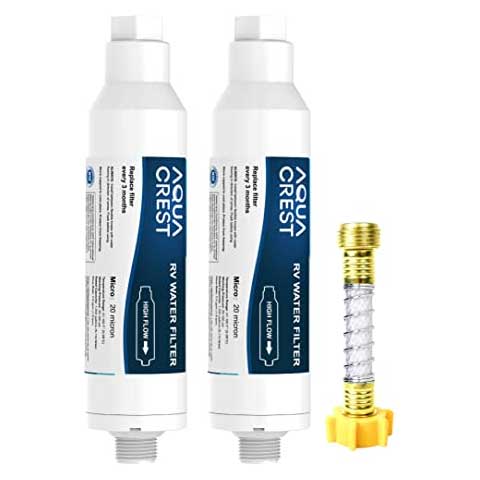 The versatility of this unit is something we absolutely love. This two-piece pack system is compatible with the 40045 KDF Filter, and this gives you a means of meeting the diverse water filtration requirements of different campsites.
Apart from using it for camping, it would also come in handy when brewing and gardening, not to mention that you can install it on your boat. The filtration system uses advanced materials to filter away chlorine, fluoride, and microbes from the water.
The design and functions of the system ensure you get refreshing, potable water. Once water passes through the filter, it is cleared of microbes, sediments, and chemicals that pose health risks or make the water to smell or taste awful.
What makes this the best inline RV water filter is its ability to remove water contaminants effectively. This unit is also easy to install, and it comes with a detail installation manual.
At that moment when you badly need to filter water for drinking, washing, or bathing, you do not have to get concerned about spending hours on end setting up the filtration system.
To prolong the longevity of your unit, you can attach it to pressure washers of other brands like the Simpson. This will also help to minimize harsh mineral dots. Depending on how frequently the filtration system is in use and also your source of water, it may last for at least 3-months.
PROS:
Filters heavy metals, fluoride, arsenic, and chlorine from the water
Compatible with pressure washers from other brands
Ideal for motor homes, boats, gardening and much more
Delivers refreshing, drinkable water
CONS:
The unit may not last the whole camping season if you have major water filtration needs
---
3. Boogie Blue PLUS High Capacity Water Filter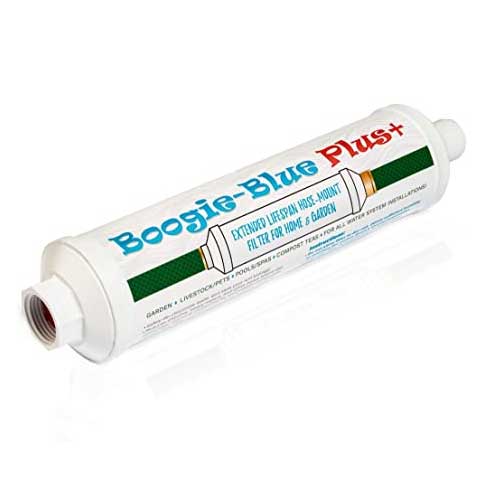 What really captured our attention is the impressively high capacity of this unit. It has a 45,000 gallons output and this compared to the production of a mere 10,000 gallons that are offered by most brands, makes this system hard to ignore.
The KDF material and catalytic-carbon used in the crafting of the product is considerably more than what you'd usually find in most water filters. This feature gives it a high capacity while boosting its longevity.
You can enjoy better peace of mind knowing that water filter failures will not force you to cut your camping adventures short.
If you are hooked on the camping lifestyle, the high capacity of this system is not the only thing that will tickle your fancy. You can depend on this product to filter out about 99% of chlorine in the water. This assures you of getting potable water that smells and tastes great.
When you are miles away from civilization, the smell and taste of chlorine are likely to be the least of your worries. With this system, you are also assured of toxins, microbes, heavy metals, chemicals, and volatile compounds being wiped out from your water.
Also, the features and capabilities of this product make it the best for RV gardening use. If you need a filtration system for gardening and generating potable water, the effortless installation process of the unit will make you smile ear to ear.
PROS:
Effectively removes 99% chlorine and 87% chloramine in water
Filters out heavy metals, volatile compounds, and chemicals
45,000-gallon output capacity
Easy to install and user-friendly
CONS:
Incorrect installation causes leaks
---
4. Clearsource Premium RV Water Filter System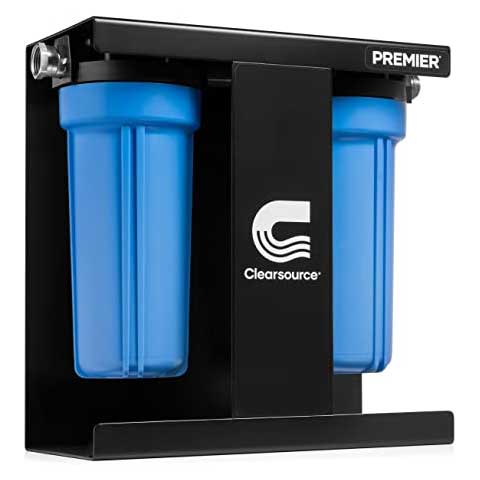 Another unit that is certainly worth your money is the Clearsource Premium. As the name suggests, it has a premium design, and this is what attracts its considerably high price tag.
On the bright side, it is ideal for the rugged lifestyles of RVers. Its sturdy construction and functions are engineered to meet all your camping water filtration needs without fail.
The oversized body of this filtration system may be a little intimidating. However, this unit is one of the easiest to use and install among the ones available in the markets.
Attaching the system to your RV hose is easy. The sturdy metal chassis makes the setup stress-free while protecting the water filter from scratches and bumps.
With a two-stage water filtration system, this heavy-duty unit will enhance the taste and overall drinkability of your water. The 1st stage has a 5-micron filter that cleans sediments from the water.
And the second stage with a 5-micron filter removes cysts, volatile compounds, giardia, chlorine, and various other contaminants.
Moreover, the weight, size, and cost of this RV water filter are aspects you must consider beforehand. The unit is about 17 pounds and is generally, heavier, bigger and more expensive than other models. Fortunately, its pros far outweigh the cons.
PROS:
A two-stage water filtration system
Able to remove sediments, chlorine, and microbes from water
Heavy-duty construction
Sturdy metal chassis that protect the filters from getting scratched or knocked
CONS:
More expensive than most water filter models
---
5. Culligan White Single Unit External Water Filter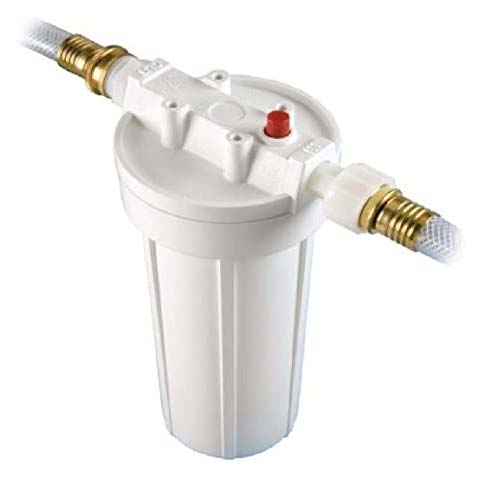 As we wrap up our top 5 RV water filter reviews, I must mention the Culligan system. Apart from its evidently stunning aesthetics, I can tell you that its sturdy and robust structure makes it worth a look. This is a model I recommend for motor homes, trailers, and boats.
The robust design of the unit makes it ideal for exterior water filtration. This offers a means to keep your storage tank clean and protect it from getting that awful rotten egg odor. Still, on the design of the system, it is sleek, and this promotes easy and convenient storage.
Camping trips are great. It is easy to forget your primary home while out enjoying nature and priceless moments away from your usual monotonous routines. However, nothing can make you miss home quicker than not having access to water that genuinely tastes like clean, drinkable water.
So, this product is designed to deliver better-tasting water. The filter cartridge helps to remove bad taste, unpleasant odors such as the smell of chlorine, and sediments from the water. You get a detailed manual with instructions on how to set up the system and operate it.
This brand has gone out of its way to make a good impression. It offers a whole array of extras needed to make the system work. Included in the package are a replacement cartridge, filter housing, hose connection kit, and a cute filter change reminder sticker.
PROS:
Robust and sturdy design
Removes chlorine, sediments and other contaminants from water
Sleek design for easy storage
Easy to install and use
CONS:
The unit tends to leak if it is incorrectly screwed
---
Factors to Consider Before Buying an RV Water Filter
There are hundreds of RV water filter models in the current markets. If you decide to go through every product, the chances are that months will go by before you find one that is an excellent fit for you. Fortunately, considering certain crucial factors will help you narrow down your search.
1. Filter Size
Before your search begins, you should think about the size of the filter you need based on your current water pressure. The general rule is that the higher your water pressure, the greater the need for a bigger filter. To make a smart choice, also determine how much water you plan to sieve through your system.
2. The Amount of Water That Needs Filtering
Some RV owners are only interested in filtering their drinking water. On the other hand, there are people who prefer installing a filtration unit for the whole motor home water system. You need a system that can adequately cater for your water filtering needs.
3. Installation Procedure/Ease of Use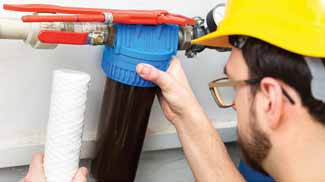 The design of a unit will play a significant role in dictating how easy or challenging it will be for you to use it or even install it. Trust me; the last thing you want is to choose a system that will cause you more headaches than convenience.
Before spending your money on any product, find out whether an installation manual is included. You also owe yourself the favor of finding out whether other customers have faced significant challenges when using or installing the product in question.
What makes it vital to consider the ease of use of a system is that it is necessary to change the filters frequently. Ideally, they should be replaced after every 3-12 months. In case you go through a nightmare during installs, chances are that you will not bother to reinstall your system once it's time to replace it.
4. Cost
Times are tough, and of course, you must consider the price of any product you intend to buy. After taking your budget into account, the number of suitable RV filter options will drop significantly.
The idea is not to choose the cheapest product you can find, but one that matches your needs without overstretching your budget. From our standpoint, it makes no sense to spend an arm and a leg on a unit that does more than you genuinely need.
5. Micron Ratings
This term may sound like rocket science jargon although it's not. It merely refers to the particle size that is allowed to go through an RV water filter system. When a product has a smaller micron rating, this means it does a more effective job at getting contaminants filtered from the water.
We advise you to get the unit with the smallest micron rating that is within your financial means. This is important, especially for those that need potable water in their motor homes.
6. Type
There are three main options you have when it comes to choosing RV water filtration systems. They include carbon, ceramic, and sediment water filters. Each of these options is unique and will stand out when in specific scenarios.
For instance, choosing a sediment unit is ideal in case you only have access to water that is full of particles and sediments. On the other hand, consider getting a carbon water filter, preferably one with granular activated carbon if the water that is available has a funny odor.
Depending on your water source, you may be worried about getting sick because the water is contaminated with harmful microbes. In such a case, a ceramic RV water filter would do you good and ensure that the health and general well-being of your loved ones are not in jeopardy.
These three are the main RV water filter types available in the markets, although there are other less popular options available.
7. Customer Reviews
If there is any point of great significance that you will pick from this post, it is the need to find out what other people are saying about a specific product. The importance of checking out the customer reviews and rating of a product cannot be emphasized enough.
Going through the opinions of other people is not the most exciting thing you can do on a warm and vibrant afternoon. After all, life is challenging, and some people will rant about the most insignificant of issues.
However, the same people with the first-hand experience in using a specific unit can save you from wasting your money on a worthless product.
It is hard to talk about customer reviews without mentioning product reviews. So why do posts like this one matter? We do the heavy lifting on your behalf and provide well researched and unbiased reviews about different products.
Since we are not affiliated with any water filter manufacturers, our reviews provide accurate information about the best systems. Also, we boldly point out where different products thrive or fail.
We do not encourage focusing on the rating of a product because this can be misleading. Product and customer reviews are better because they clearly outline the benefits as well as the shortcomings of different water filter systems for recreational vehicles.
Benefits of Using RV Water Filter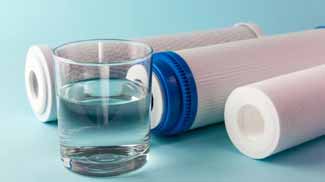 Having a reliable water filtration system is a must for every RV owner who loves camping outdoors. A proper system will leave you counting numerous benefits that include but are not limited to:
1. Sediment Removal
One of the essential functions of a water filter is to remove sediments and contaminants from your water. A quality system will ensure that your water supply not only looks clean but is indeed free of particles that are harmful to your health.
2. Reduction of Chlorine Odor and Taste
Apart from removing sediments, water filters can also enhance the taste of the water in your RV. The majorities of campgrounds offer chlorinated city water that neither smells nor tastes good.
Chlorine is crucial for treating water and making it safe for human consumption. Any filtration system with a carbon filter will get rid of the taste and odor of chlorine.
3. Bacteria Reduction
You do need a water filter system for your RV to free your water from harmful organisms. Some of the harmful bacteria that thrive in water include campylobacter jejuni and fecal coliform.
These microbes can cause stomach aches, diarrhea, and digestive problems. To save yourself from the risk of falling ill while out on your escapades, invest in a sturdy water filtration kit.
4. Nail, Hair and Skin Health
Both the harmful microbes in water and unwanted minerals can have a negative impact on your nails, hair, and skin. Chlorine in specific is well known to make the hair look brittle, and it also causes nail and skin flakes.
These may be temporary concerns, although they certainly will mess with the quality of your selfies and your overall camping experience.
5. Offers Convenience and Peace of Mind
For RV owners, nothing can get you more worked up and worried as the fear of not having potable water. Just knowing that your system will afford you fresh and adequately filtered drinking water will give you peace of mind. By extension, you can dodge the inconvenience of ending your adventures prematurely.
6. Compact and Lightweight
Weight and storage issues are common, especially for the RVer who is often on the road. A proven way to travel lighter is by leaving those large water bottles at home and depend on a light and compact water filter system to provide potable water.
How Do RV Water Filters Work?
Water filters filter the water in an RV's water tank. How a specific unit functions will even so depend on its design, brand, and model. The majorities of units are attached to the water tank through a hose.
To prevent spigot and faucet strains, filtration systems are equipped with a hose protector. There are inline water filter models that combine carbon filtration and sediment removal, and this means they can remove contaminants and odors from the water.
It is worth mentioning that the two most crucial features in a unit are carbon filtration and sediment removal. They ensure that the water supply in your recreational vehicle is clean, free of microbes, and ready for use.
Such water is safe for drinking, taking showers and other activities that enhance motor home lifestyles.
In the majorities of cases, filters are equipped with Kinetic Degradation Fluxion (KDF). This is a feature that helps in removing odors that linger within the water because of settled sediments or chlorine.
If you are blessed with a sensitive nose, the chances are that you noticed that water tanks do not emit the best of smells. In some instances, city water that runs from the taps smells like rotten eggs.
When water remains stagnant for a while, bacteria and other harmful microbes tend to multiply quickly. A proper water filter will make this a concern of the past because Kinetic Degradation Fluxion assists in preventing bacteria buildup. This ensures a unit plays its primary function of making your water clean and safe.
You Can Also Check: Which Awning Shower Tent is Best for You?
What are the Different Types of RV Water Filters?
When in search of the best RV water filter system, you need to choose from three main unit types. They include carbon, sediment, and ceramic water filters. Each type is designed to play a particular purpose. Let's dig deeper into it and learn their critical roles.
1. Sediment Water Filters
These are perhaps the most basic filter systems, and their core role is to catch and remove sediments and particles from the water. This function, in return, helps to keep toilet valves, water heaters, and water pumps in a pristine condition for an extended period.
This is the best system to choose if you want to filter all the water that goes into your RV.
The downside to using this kind of unit is that it demands a lot more in terms of maintenance. Users also need to be cautious because these filters are known to cause damage to other RV water components.
2. Ceramic Water Filters
The science behind the functions of ceramic water filters is quite impressive. They have holes that get rid of water contaminants, including sediments, bacteria, and other harmful microbes.
Modern ceramic water filter units come equipped with carbon components that help in removing chemicals such as chlorine from the water.
Not all systems come with carbon components. This means that not all of them can help you effectively sieve chemicals from your water. If your primary concern is removing chemicals from your RV water, make sure that the unit you invest in has carbon components.
3. Carbon Water Filters
Irrespective of whether you are a full-time or part-time RVer, you are likely to find carbon water filters to be quite useful. Here's the deal, these units offer much more than the sediment or even the ceramic systems. This is the system you need if you want clean water that has a better smell and taste.
For those that are financially endowed, I recommend settling for this option because it is more practical and convenient. Think of it this way, with one system your water will be free of sediments, unpleasant odors, and funny tastes.
Carbon water filters come in three unique variations. They include granular activated carbon, modified carbon block, and solid block carbon. If I were to choose from these options, I would settle for granular activated carbon because they are effective in removing water contaminants.
Additionally, the filter will also remove nasty contaminants, including microbes, organic compounds, heavy metals, lead, asbestos, and mercury, just to mention a few.
Carbon water filters come in three unique variations. They include granular activated carbon, modified carbon block, and solid block carbon. If I were to choose from these options, I would settle for granular activated carbon because they are effective in removing water contaminants.
Take-Out Tips
Group camping trips can cause a strain on your unit. To be on the safe side, consider using more filters.
Check your product manual to find out how frequently your filter needs cleaning. If you proceed to use it after the recommended duration, you risk damaging the canister or hose.
Water filters are not purification systems. The former makes water clean for drinking while the latter turns unsafe water into potable water.
To get undeniably clean water, you must first flush out dirty water by running your system for a few minutes. Wait for the water to get clear before fetching some for drinking.
Frequently Asked Questions
Here are some of the most commonly asked queries regarding the best RV water filters:
1. What are Water Filters Made of?
A: I am not surprised that you asked. It is normal to get a little curious about the magic inside a unit that makes it turn contaminated water into potable water.
Well, your RV water filter is made of a filter media, in most cases a web or ultrafine sieve that mechanically traps pollutants. This media works pretty much like a tea strainer.
Some products are designed to work based on the absorption process. They work by getting contaminants contained in adhesion's microscopic pores that attract these molecules like a magnet.
2. What is the Expected Life Span of RV Water Filters?
A: The longevity of a unit depends on a variety of aspects, including its type and design. Some models last for one full camping season, which is three months. Some products, on the other hand, can serve you for a whole year.
3. Do Water Filters for RV Leak?
A: Yes, a unit may leak because of several concerns. First, it could be that it has lived through its intended life span and ought to be replaced. It could also be that the product is damaged and has developed cracks. Another issue that can cause leaks is the improper installation of O rings.
In case you are facing a concern, you need to uninstall the water filter and examine it thoroughly. If you notice significant damages or signs of aging, the best solution is to buy another system.
Unfortunately, replacing your filter will also be necessary if the O-rings are damaged or missing.
4. I Want to Clean My RV Water Filter. What is the Process?
A: Keeping your unit clean will play a significant role in extending its life span. This will, by extension, reduce your carbon footprint and ensure you enjoy a good return on your investment. Let me show you how to get this done using several simple methods.
First, you can backflush your filtration system by reversing the flow of water to push out gunk buildup. Depending on your unit's model, you may have to use the syringe or hose that came with the package.
Another equally effective method of cleaning the unit is to flush at least one gallon of chlorinated water through it in the normal direction. This should clear out any bacteria.
When chlorinated tap water is not available, mix eight drops of scent-free bleach in one gallon of water and let it sit for half an hour. After this, flush the solution through your filter.
My personal favorite method is mixing one cup of bleach with one liter of water. This assures me of effectively disinfecting the filter. If you use this method, be sure to air-dry the unit within a warm and well-ventilated area.
The filter needs to have reasonable moisture before you can clean it. If it is dry, run water through it in the general direction before you reverse it. It is good practice always to read the product manual. If it states that your filter can be brushed to remove gunk, make sure you use a soft-bristled brush.
Another equally effective method of cleaning the unit is to flush at least one gallon of chlorinated water through it in the normal direction. This should clear out any bacteria.
When chlorinated tap water is not available, mix eight drops of scent-free bleach in one gallon of water and let it sit for half an hour. After this, flush the solution through your filter.
My personal favorite method is mixing one cup of bleach with one liter of water. This assures me of effectively disinfecting the filter. If you use this method, be sure to air-dry the unit within a warm and well-ventilated area.
5. How Often Do I need to Get My RV Water Filter Changed?
A: The average lifespan or a unit is about 3-12 months, and this will highly depend on the quality and brand of your product. In this regard, consider replacing your product after every 3-6 months, depending on how frequently it is in use.There are sure signs that would make it apparent that investing in a filtration system replacement is long overdue. For instance, you need a new filter if your water looks darker than usual or its flow is slower than average.
6. How much Water should I Filter?
A: Modern water filtration systems allow you to filter as much or as little amounts of water as you need. You have the option of conveniently filtering the entire water supply of your mobile home and not just drinking water.
This deal ensures that your whole supply is clean and safe for drinking, washing, and taking showers.
7. What are the Installation Steps for My RV Water Filter?
A: The first step is to install your rubber hose seals. Get them fixed on the shut-off valves that are connected to the garden hose as well as the two sides of the canisters. The next step is to get the fittings wrapped adequately with a plumbers tape. Make sure your cartridges are lined up according to your water flow pattern.
Step two is to install the hose adaptors and pipe fittings on either side of the canister. Now it's time to fix the O-rings. I think of this as the most intricate part because any mistakes could result in leaks. Take your time to ensure you do a clean job.
The third step is to get the cartridge set next to the canister and tighten it correctly. Repeat this process when fixing your carbon filter then turn off your motor home's water supply. Step four is to connect your water supply to the head of your canister.
Fix your 3-feet hose to the canisters head and inlet and turn your water supply back on. Check for leaks and if there are none, voila! You are done. Use the brackets to mount your filter.
8. Is it Possible to Use Reverse Osmosis for Motor Homes?
A: Reverse osmosis involves purifying water and lowering its mineral and salt content. It's a straightforward process that can be used in RVs. This process works by reversing the usual process of osmosis. In short, one system serves as not just a filter, but also a water purifier and softener.
9. Is there Harm in Using My Unit for Hot Water?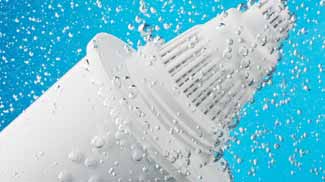 A: Unfortunately, it is challenging for hot water to get adequately filtered when it is run through a filtration system. Usually, it may even impact the chemical absorbing process and get contaminants released back into your RV water.
If you run hot water through your filter by accident, all is not lost. Run cold water through the system for about two minutes to flush out the hot water.
Conclusion:
We can't underrate the importance of RV water filters. They come in handy when you need clean water on outdoor vacations and weekend camping trips. They are more cost-effective than purchasing water bottles.
But even if water bottles were affordable, who wants to haul several liters of water through an off-the-beaten-track for a week-long vacation in the wilderness? Hence the need for customized RV water filter.
The best RV water filter comes effective, convenient, easy to clean, and incredibly portable. It helps to eliminate dirt and debris. Besides, it gets rid of harmful bacteria and also improve the taste of your water.
We hope that you will find the perfect model as you prepare for your next trip.